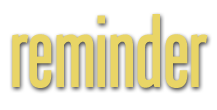 The following participants have not submitted an icon for
Challenge 07
:
SKIPS ARE NO LONGER ALLOWED. If you do not submit an icon for this challenge, you
will
be eliminated.
Please submit your icon to
this screened post
. I won't be around tomorrow at Noon, so I'm extending the deadline a bit. Icons will be accepted until TOMORROW, July 29th at 6 PM CST (UTC -6).
Current Mood: silly
Current Music: Sunao ni Narenakute